REDUCE YOUR OVERALL TREATMENT TIME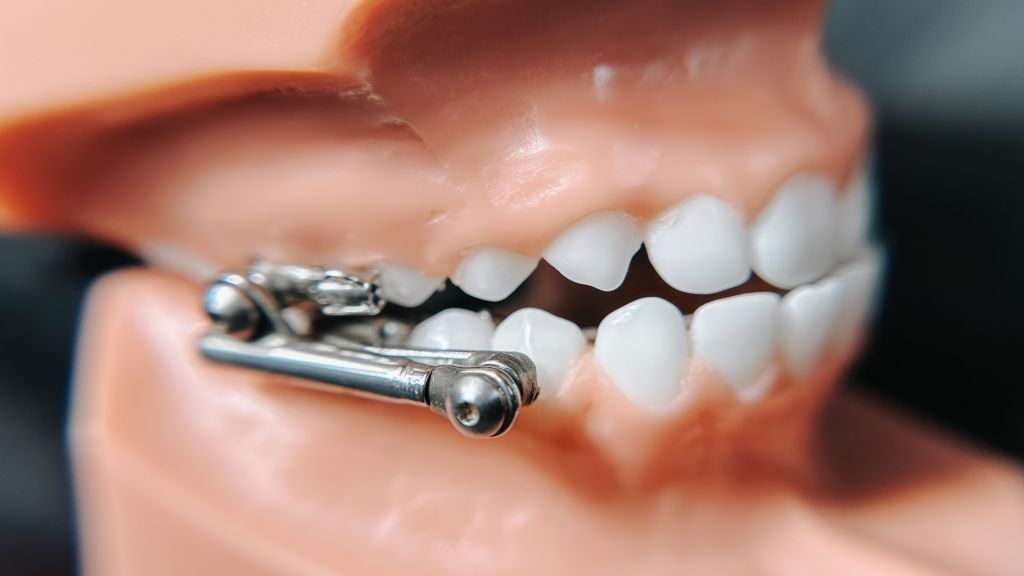 What is Carriere Distalizer
The Carriere approach is an innovative orthodontic approach that consistently achieves exceptional results in less time than other treatments. By combining gentle forces that work with the anatomy of the mouth and the latest orthodontic technology, the Carriere Distalizer can quickly correct bite issues at the beginning of orthodontic treatment. This orthodontic device is designed to enhance your smile by correcting the alignment of your teeth and jaws. Our team at Apple Creek Orthodontics uses the carriere distalizer to give our patients remarkable improvements in their smiles. This device gently guides the upper teeth backward and the lower teeth forward to correct issues like overcrowding and misaligned jaws. Our skilled orthodontists, Dr. Tomassetti and Dr. Eichholz are able to use the carrier appliance to create more balanced smiles.
Dr. Tomassetti and Dr. Eichholz will attach the carriere appliance to your canine and first molar tooth on either side of your mouth with a strong dental glue. They will then place an elastic on the appliance and fix it to a tooth on the opposite arch. While your mouth may be sore after, the carriere motion appliance does not hurt or cause patients extensive discomfort.
Every patient is different, so there is no standard for how long treatment lasts, but treatment in a carriere appliance typically lasts around six months. Once your time in the carriere appliance is over, you're ready to complete the second phase of treatment, which will either be braces or clear aligners depending on the treatment plan you and Dr. Tomassetti or Dr. Eichholz agreed to follow.
Traditional braces treatment can take anywhere from 18 to 24 months on average. The carriere motion appliance can correct bite misalignments in three to six months, shortening our patients' total treatment time by a minimum of  six months! Carriere motion appliance improves the efficiency of your bite correction and significantly reduces overall treatment time!
How does the Carriere Distalizer work?

Before you reap the benefits of the carriere distalizer, the first step to your new smile is to attend a consultation appointment with our device experts, Dr. Tomassetti and Dr. Eichholz. During your complimentary consultation, our Apple Creek Orthodontics team will take a look at your bite and alignment concerns. As our doctors gather more information about you and your smile, they can better build a personalized treatment plan, tailored to your specific treatment needs. The Carriere Distalizer can effectively correct issues with the alignment of your upper and lower jaws.
2. Check-in with Your Doctor
Once Dr. Tomassetti and Dr. Eichholz establish a treatment plan for you including the carriere distalizer, you'll get the appliance attached to your teeth and our team will begin monitoring your progress. During your check-ups, Dr. Tomassetti and Dr. Eichholz will ensure your carriere motion device is effectively serving its purpose of gentle guiding your teeth into the correct place overtime. During this time, regular check-ins with your Apple Creek team are critical to ensuring the Carriere Distalizer is functioning optimally and that your treatment progresses as planned.

3. Speedy straight teeth
Although the carriere distalizer operates by gradually guiding the teeth into their new position, you'll be surprised at how fast your upper and lower jaw move into their new positions. This innovative approach to orthodontics can lead to improvements in your smile before you know it! One of our favorite perks about the carriere distalizer is its ability to achieve efficient results without causing a need for surgical interventions or lengthy treatment durations. Through the skilled guidance of Dr. Tomassetti and Dr. Eichholz, the Carriere Distalizer can create a properly aligned bite and beautiful smile!
100% Patient Satisfaction
At Apple Creek Orthodontics, our team is dedicated to providing each patient with a 5-star, personalized treatment experience. Our patients are consistently impressed with our ability to pair exceptional service with a vibrant and welcoming atmosphere. They love feeling like a part of the Apple Creek family, and enjoy the benefits of our hybrid virtual and in-office treatment opportunities. We're proud to have 100% patient satisfaction at Apple Creek Orthodontics, but don't just take our word for it. Explore our glowing patient testimonials and see for yourself!