Get Your Best Smile Faster
Accelerated Orthodontics – vPro5
At Apple Creek Orthodontics, we are proud to offer accelerated orthodontic options such as our VPRO5 device. This device is a medical-grade device that produces high frequency vibrations onto the teeth and surrounding bone, encouraging them to move into the right position at a faster rate. The VPRO5 can be used alongside traditional metal braces, clear braces and even with Invisalign Clear Aligners. This device helps to optimize the fit of your aligners so your teeth can track progress with maximum efficiency, leading to faster and more desired results. One of our favorite perks of the VPRO5 is you only need to wear it for about five minutes a day. Simply place the device over your aligner, turn it on, and let the high-frequency vibrations work their magic.
Our VPRO 5 operates through high-frequency vibrations in order to accelerate orthodontic treatment. The VPRO 5 is an FDA-approved medical device that is placed over the teeth to emit gentle vibrations that stimulate the bones surrounding the teeth. These vibrations enhance the body's natural response to orthodontic adjustments allowing teeth to move more efficiently. This device encourages the bone to adapt faster to the changes being made during orthodontic treatment.
Using the VPRO5 is extremely simple and won't take up much of your day. All you have to do is connect the mouthpiece to its oscillating base, make sure your aligners are on your teeth, place the mouthpiece over your aligners and allow the accelerated therapy to run for a five minute cycle and you are done! Complete this process once a day for 5 minutes each day.
While you should repeat this treatment everyday as long as you're still wearing your aligners, you only have to complete about five minutes of treatment each day. The purpose of this device is to speed up your entire treatment process, so remembering to wear it just 5 minutes a day could significantly reduce your overall treatment time.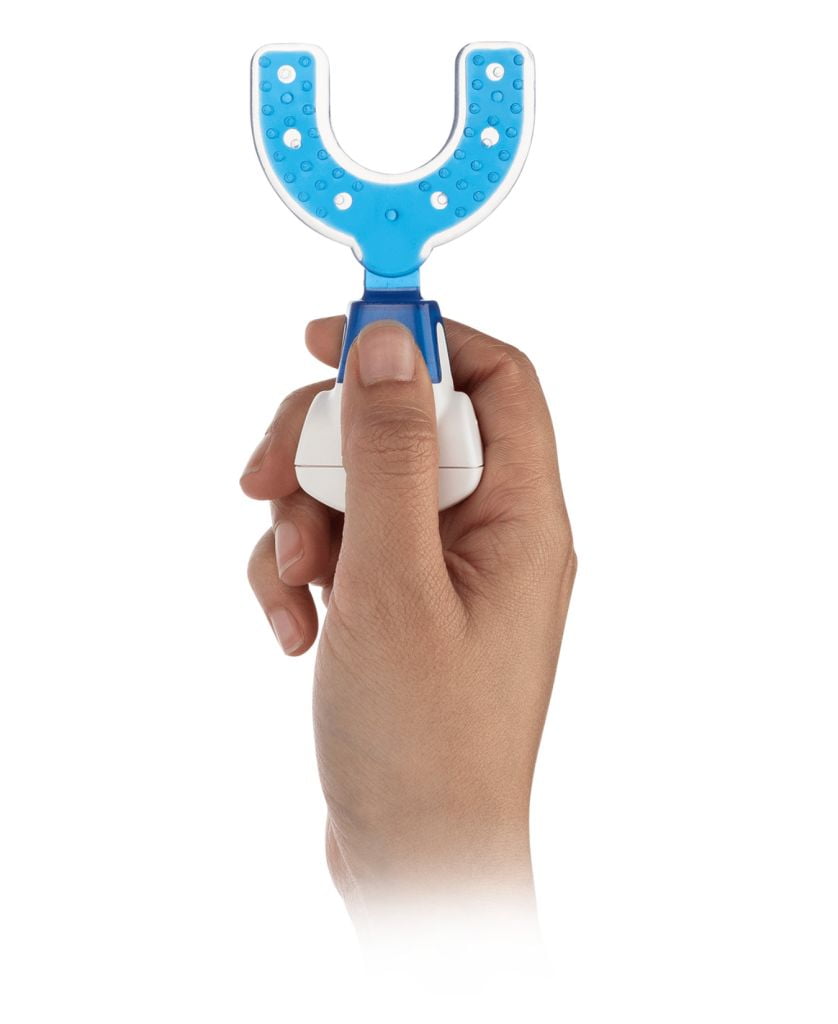 What are the treatment Steps?

Before you jump into completing your VPRO5 cycles at home to enhance your clear aligner experience, you'll meet with Dr. Tomassetti and Dr. Eichholz to ensure you're a good candidate for this treatment. Since our patients are already in clear aligner treatment when they start the VPRO5 treatment, a quick consultation in which our team explains the treatment process and benefits serves as your treatment consultation.
2. Check-in with Your Doctor
Once our Apple Creek Orthodontics team sets you up with a VPRO5 device and provides you with instructions on how to use the device, Dr. Tomassettic and Dr. Eichholz will check in with you frequently to ensure the device is working properly and that it is actually improving the fit of your aligners. Our team will make sure you're using the correct vibration frequency and remind you to complete one 5-minute cycle everyday for effective treatment progress.

3. Speedy straight teeth
After your first few occasions using the VPRO5, you'll begin to see improvements and advancements in your treatment, confirming that the device is working and doing its job. Your path to a new smile will fly by even faster with the VPRO5 enhancing your clear aligner journey. Just remember not to bite down or clench your jaw while using the VPRO5. The device will automatically shut off for you once your cycle is over, making the process to a great smile simple and seamless.
Professional, Personalized Care
Does your child seem like a good candidate for our early treatment option? If so, call our office today and schedule their complimentary consultation. It is important for children to be seen by an orthodontist before age 7, so Dr. Tomassetti and Dr. Eichholz can utilize the opportune time to begin early treatment. If you're unsure about early treatment and have questions we can help with, don't hesitate to call or visit our office. We are ready to help you and your family achieve their best smiles!