May 18th, 2020
To the Patients and Families of Apple Creek Orthodontics,
We hope this letter finds you and your family in good health.  Our communities have been through a great deal over the past few months and we truly appreciate your patience and understanding while we have been shut down during this COVID-19 pandemic.  While many things have changed, one thing has remained constant: as your orthodontic healthcare providers, our commitment to the health and safety of our patients and team members is our primary concern.
We will resume direct patient care on June 1, 2020.  During our practice closure, we have been incredibly busy preparing for our return to clinic and would like to inform you about our plans as well as significant changes we are making at our practice.  Infection control has always been a top priority for our practice and we strictly adhere to all infection control recommendations made by the American Dental Association (ADA), the U.S. Centers for Disease Control and Prevention (CDC) and the Occupational Safety and Health Administration (OSHA). We closely monitor the activities of these agencies so that we are up to date on any new rulings or guidance that may be issued.  We do this to ensure that our infection control procedures are current and follow the recommendations of each agency.
However, due to COVID-19 and its highly infectious nature as a respiratory, airborne, and contact transmission virus, the doctors at ACO feel that we need to take our infection control protocols to a higher standard.
So that we may return to clinic in the manner which best protects our patients and team members, we are implementing the following protocols to maintain social distancing guidelines of the CDC and to reduce the risk of coronavirus transmission:
Our practice will be using an online mobile check-in system from your car. Instructions will be provided to you with your email/text appointment reminders.
We will ask the patient/guardian to complete a COVID-19 screening questionnaire prior to being brought into the practice.
We ask that you arrive to our practice approximately 10 minutes prior to your appointment to allow completion of the screening questionnaire and mobile check-in.
We have reduced our seating capacity in our reception area and ask that only the patient enter the practice for most appointments.
We now have a mandatory mask protocol in place for all our practices. We ask that all patients wear their own masks, if possible. If you do not have a mask, we will provide you one when checking in.
We will be performing daily temperature checks with an infra-red thermometer for all team members, patients and guardians to ensure no one has a temperature above 100.4 degrees Fahrenheit. Any team member with a temperature reading above 100.4 F will be sent home and any patient with a temperature reading above 100.4 degrees F will need to reschedule their appointment.
We have hand sanitizer that we will ask you to use when you enter the practice. Hand sanitizer will be readily available throughout the practice for anyone to use as needed.
Our waiting room will no longer offer coffee, tea, water, magazines, children's toys and so forth, since those items are difficult to clean and disinfect.
We are installing glass sneeze guards at the front desk for each Scheduling Coordinator.
To ensure the safest practice environment, the doctors are also making significant improvements to our clinical treatment areas:

Atmos Air - https://atmosair.com/ - is a medical grade air purification system. In contrast to traditional HEPA air filtration, Atmos Air is a bipolarizing ionization technology which is connected to our central HVAC systems and continuously circulates bi-polar ions throughout ambient air. As we know the virus is spread via direct and indirect contact, the continuous application of bi-polar ions emitted to ambient air by the Atmos Air System disinfects both the breathing space and surfaces. In our opinion, this is the most effective system available for continuous cleaning and decontamination of indoor air.
ADS Oral Aerosol Vacuum - https://www.youtube.com/watch?v=pStSV2P5xKg&t=3s - is a high-powered evacuation system which reduces oral aerosols up to 90% (see image below).  This self-contained unit includes Ultraviolet C lighting which kills all pathogens and a 3-layer HEPA filtration system.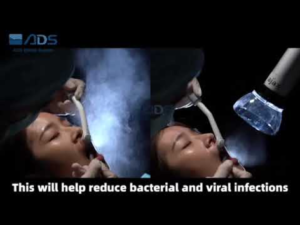 We are installing glass dividers between the clinical chairs for privacy and additional protection of our patients.
Until we become acclimated to our new systems, we will be limiting the number of patients in the clinical area. We hope to be back on our normal schedules in the near future.
We have upgraded our Personal Protective Equipment (PPE) and protocols with face shields, KN95 masks, scrubs for all clinical team members, disposable gowns and head caps.
Due to our new infection control protocols and equipment installation, we ask for your patience as our entire team needs time to ensure we are practicing our new infection control systems correctly.  We look forward to seeing you again and are happy to answer any questions you may have.  Thank you for being our patient.  We value your trust and loyalty and look forward to welcoming back our patients, neighbors and friends.